Gamification has become a popular phenomenon in education, business, government and science. Introducing fun-game activities in these real life situations, fits within the idea of an experience oriented economy. The question is: is it fun for everyone?
Gamification is a technique that brings game elements to real life (non-game) products and services to design behaviors, develop skills and enable innovation with the aim to increase customer experience, organizational productivity, learning, sustainability, innovation, creativity etc. In the infograph below a short introduction is presented of online gamification.

Kasurinen & Knutas (2018) published in the Computer Science Review of last month, their findings of their research analyzing 1164 gamification studies. The three main trends they see is that gamification as a proof of concept is related to 1) computer science education, 2) ecological lifestyles and sustainability, and 3) motivational tools. The most pressing issue of the research work in gamification is to collect evidence on the practical applications and their long term impact. 
Gamification however is not a panacea for all challenges that we face to improve customer experience, organizational productivity, learning, sustainability, innovation, creativity etc. Success is very much dependent on the context of the situation that is being gamified and it depends on the qualities of the users. Is their involvement cognitive or affective in nature. Perhaps even more important is, that the involvement is voluntary. Some tips for using gamification are presented in the following infographic.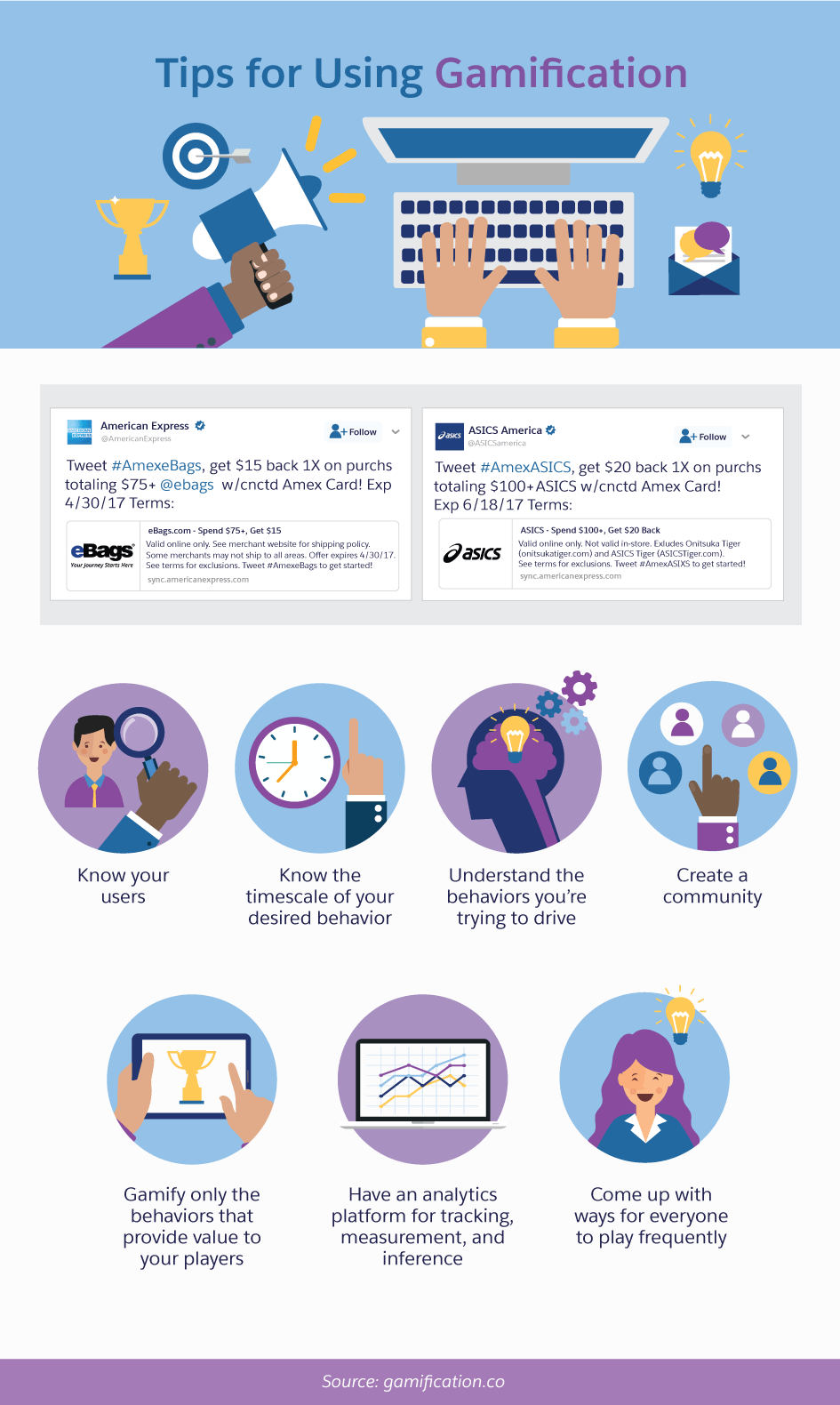 Successful examples of gamification that can be found on the internet related to education, business, marketing and sustainability. The question for me is: will gamification still be fun in the future? Experts in the field are forecasting a healthy future for gamification. Looking at google trends today, it seems that gamification is still trending but stabilizing (see picture below).
What are the most important issues for the future of gamification? In my opinion gamification needs continuous innovation in order to create the right amount of fun. Users of gamified tools, like customers and employees, want to be surprised and want meaningful activities or contributions. The gamification life-cycle can be shorter than we think and in need of conintuous development and investment. At the same time, it still leaves the non-users out of scope. From this perspective, gamification should be viewed as a useful tool for specific situations relating to specific target groups which are large and inclusive enough to create the amount of fun that is hoped for.
Literature
Kasurinen, J., & Knutas, A. (2018). Publication trends in gamification: A systematic mapping study. Computer Science Review, 27, 33-44.
Thanks to Salesforce and Ghergich & Co for using the infographs.
If you found this article about gamification interesting, you might like…
People, Planet, Profit and Play!